You might know
Antoinette
for its Orchard branches but you really have to check out the one at Penhas Road. Just a 3 minute walk from Lavender MRT, the cafe is hidden in an area where you would least expect bumping into an exquisite looking cafe. The interior is one of the nicest I have seen around and it looks as classy, if not more, as
Talent Cafe
and I am glad to say that there are still affordable foods on its menu despite the majority being above $20. The desserts and bakes are also quite affordable and looks extremely delicious. I love everything about this cafe and I would recommend you this place for special occasions and dates!
30 Penhas Road
Singapore 208188
Tel: 62933121

Opening Hours:
Mon - Thu: 11am to 10pm (last order - 930pm , last seating - 945pm)
Fri: 11am to 11pm (last order - 10pm , last seating - 1045pm)
Sat: 10am to 11pm (last order -10pm , last seating - 1045pm)
Sun: 10am to 10pm (last order - 930pm , last seating - 945pm)

Antoinette website
Antoinette facebook
The Place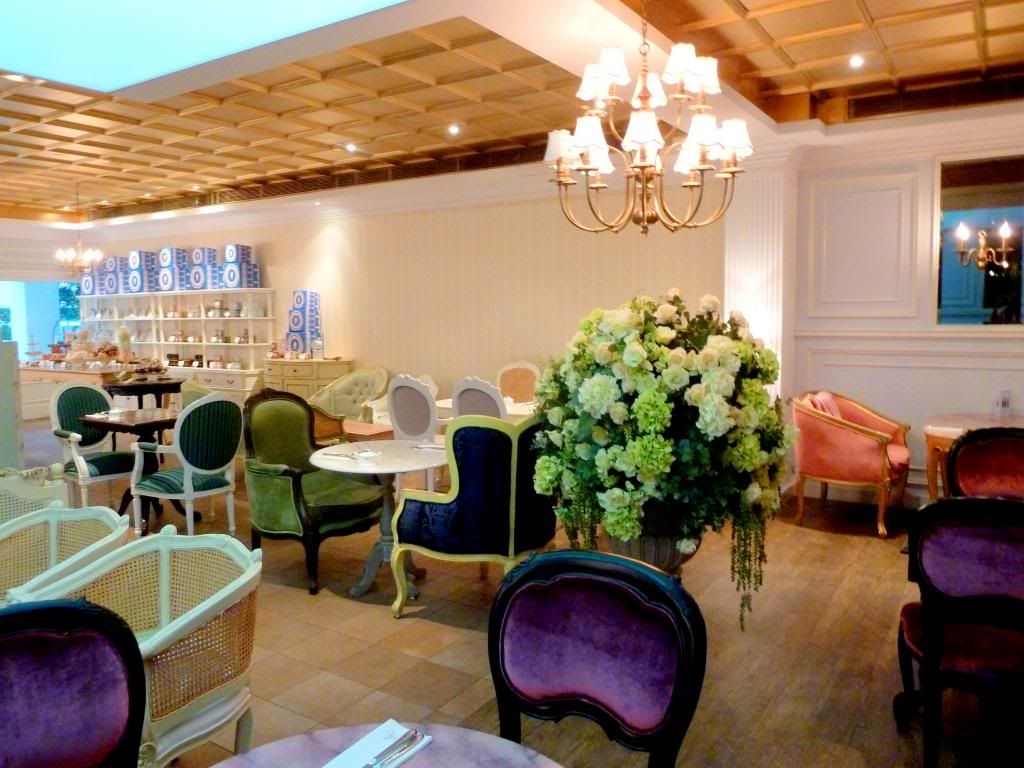 From one look, you would be able to tell that this place is "atas" looking. Those expensive looking sofa seats and hanging chandelier makes the cafe posh and fancy.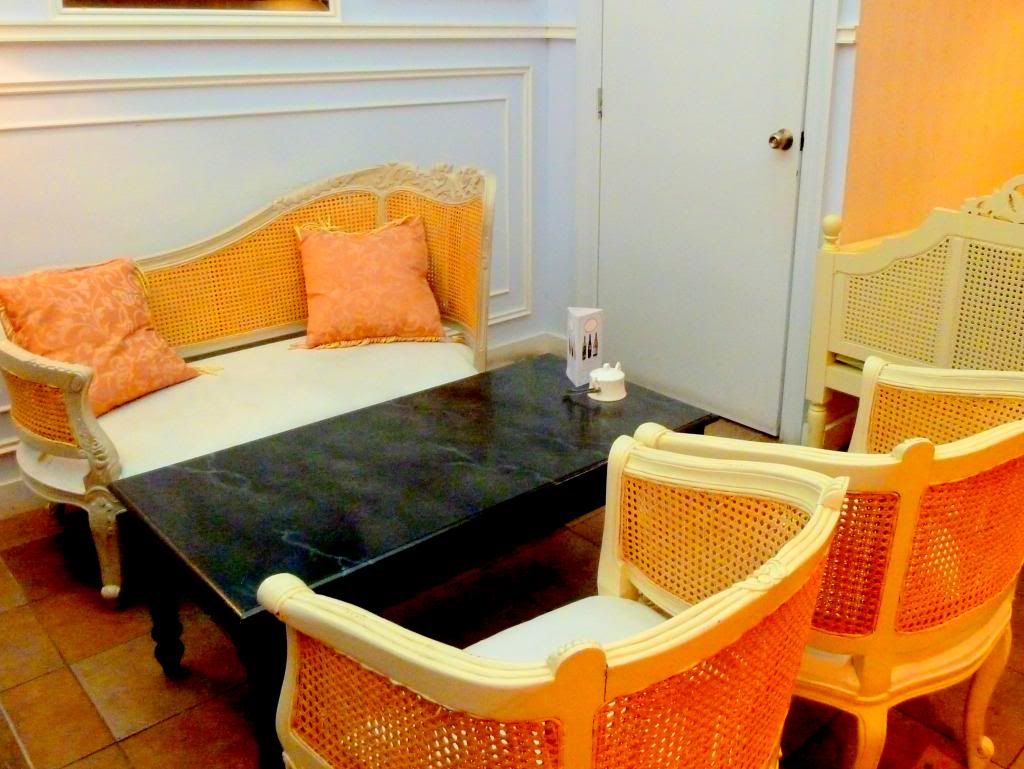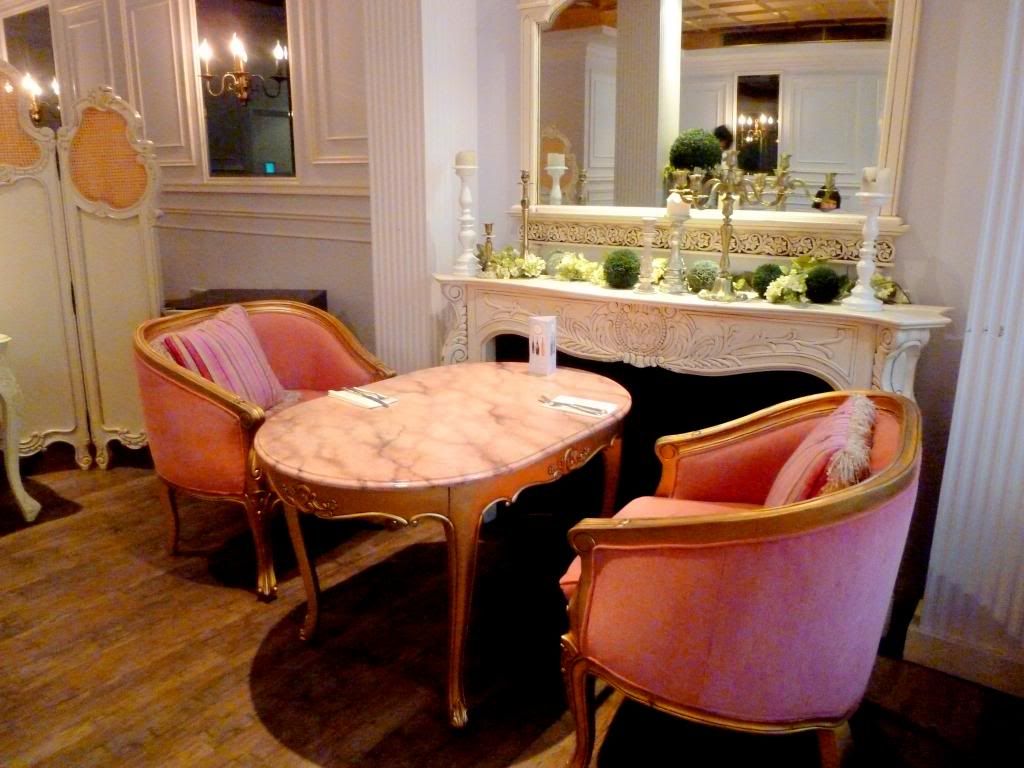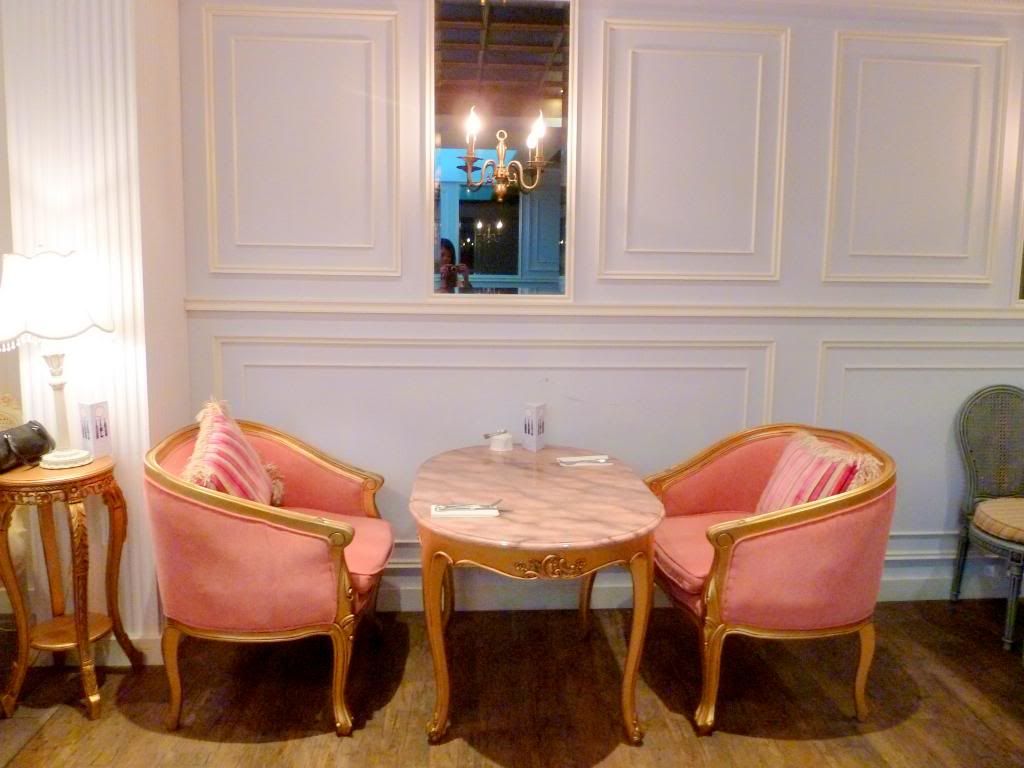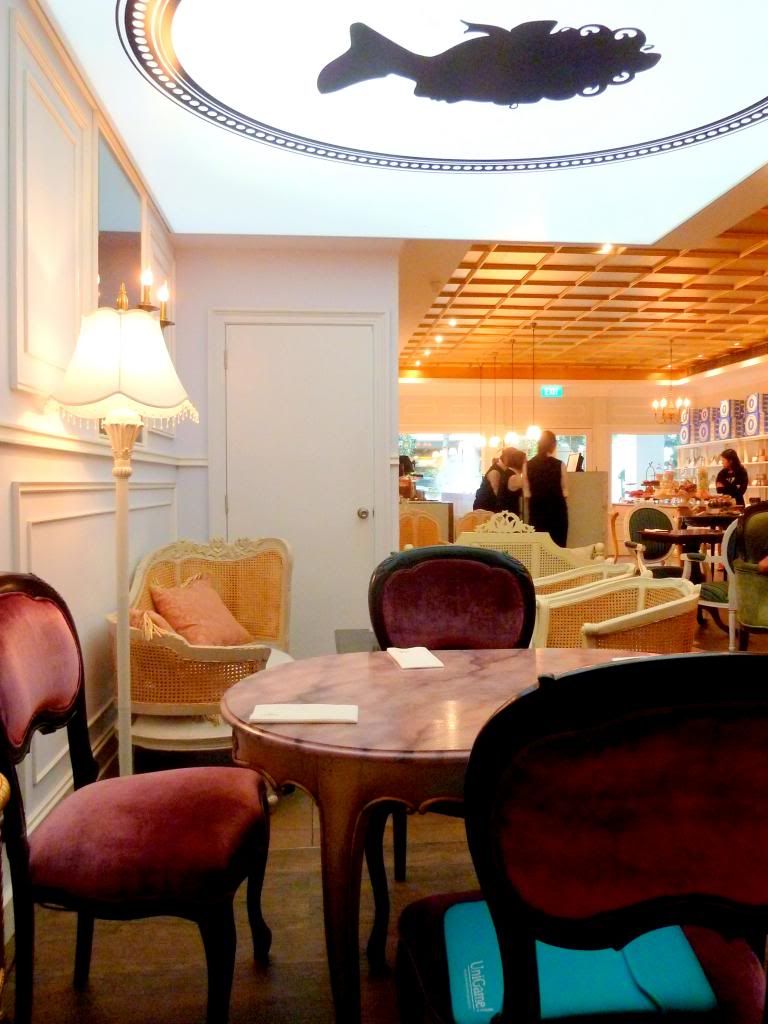 You could get a peaceful time at
Antoinette
on a typical afternoon as crowds are sparse and they usually come at specific meal hours.
The staff are also quite attentive and friendly especially when it is quieter. They are dressed very well too, it really makes you think you are dining at an expensive restaurant.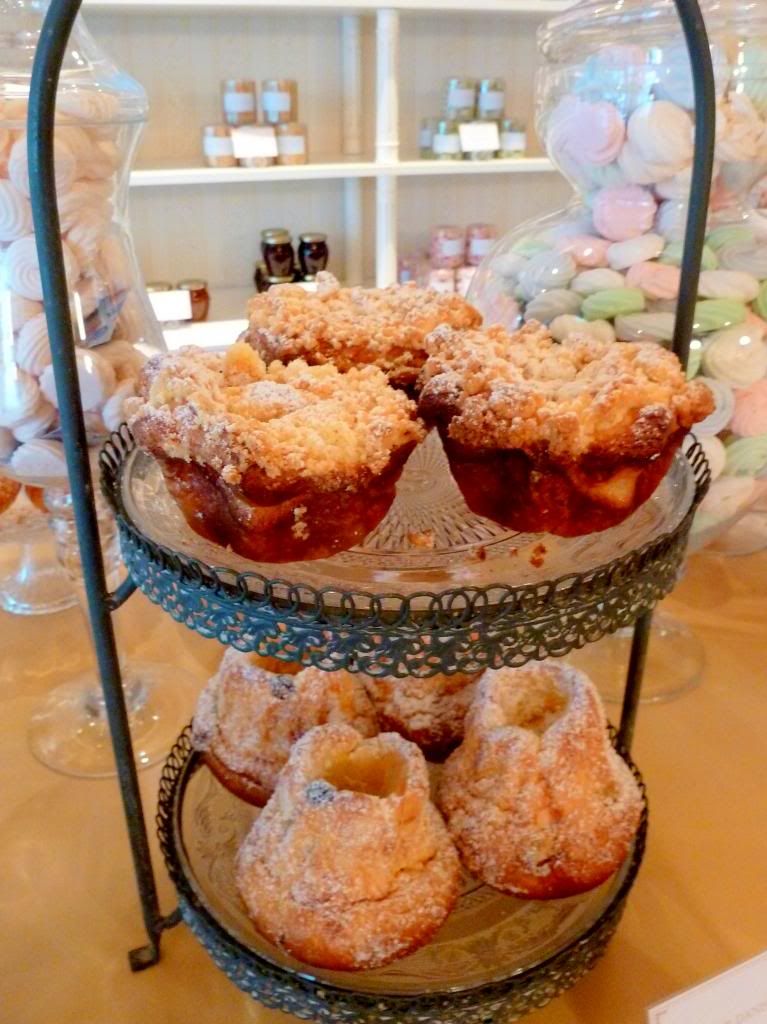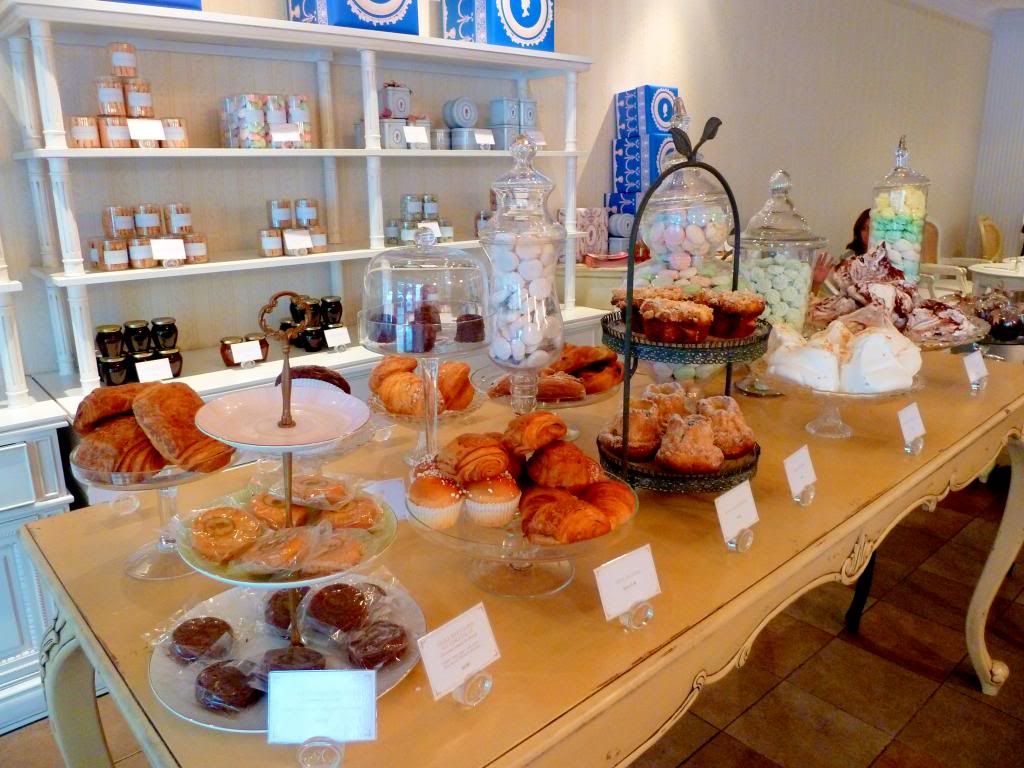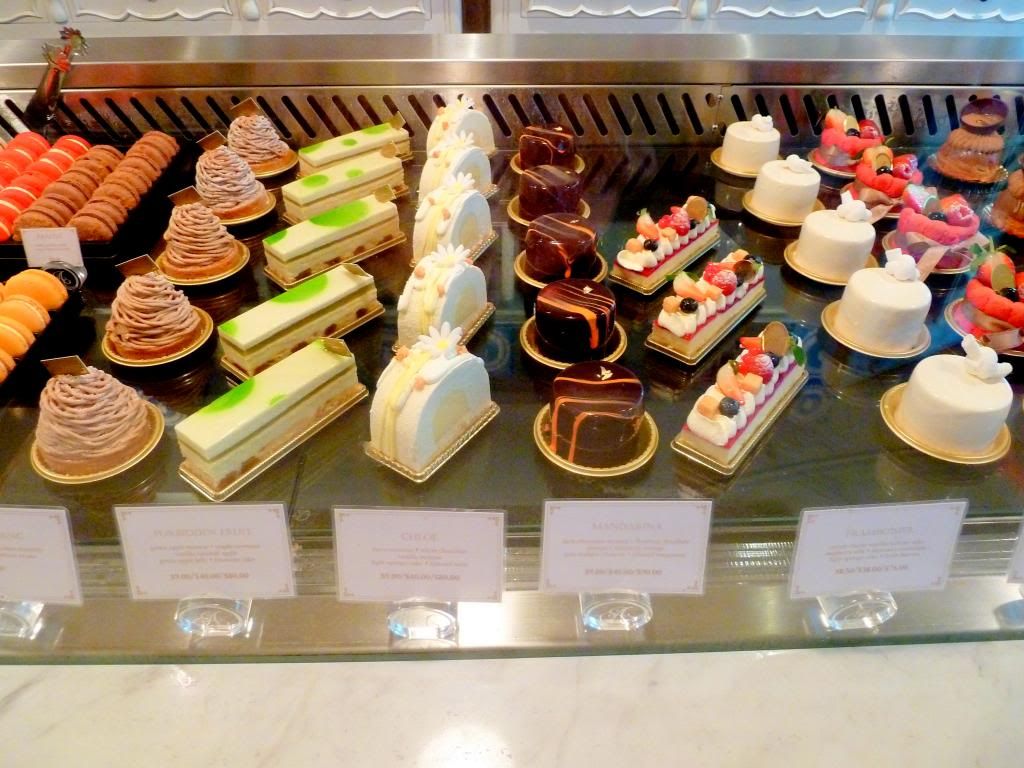 A gallery of pretty desserts.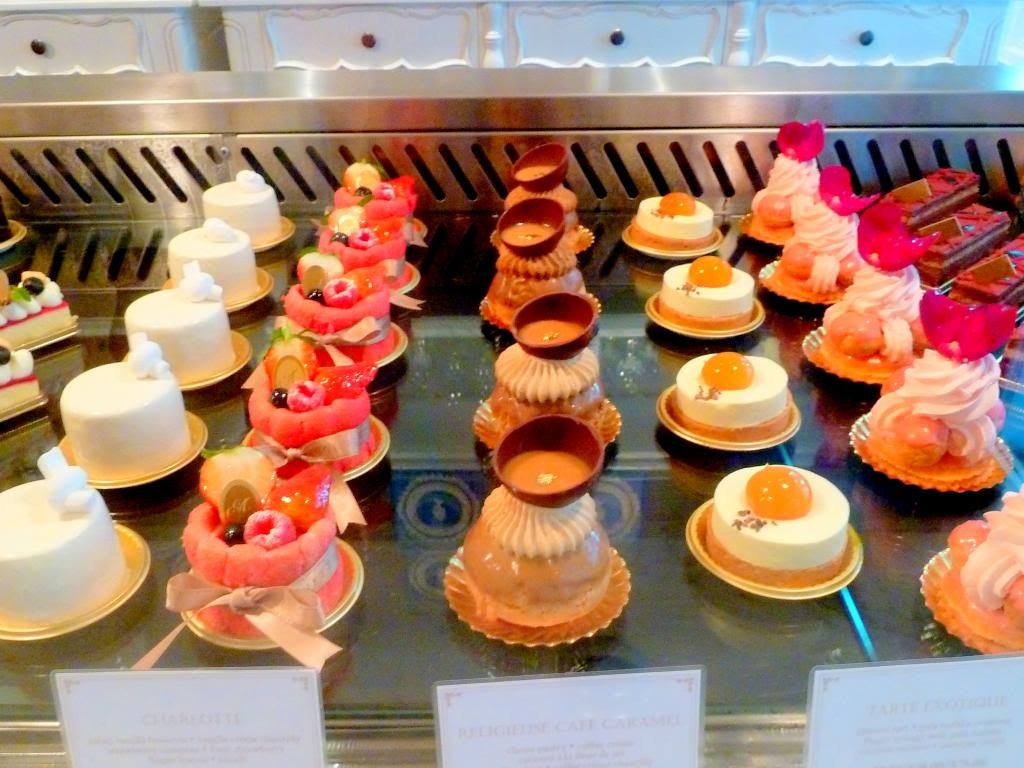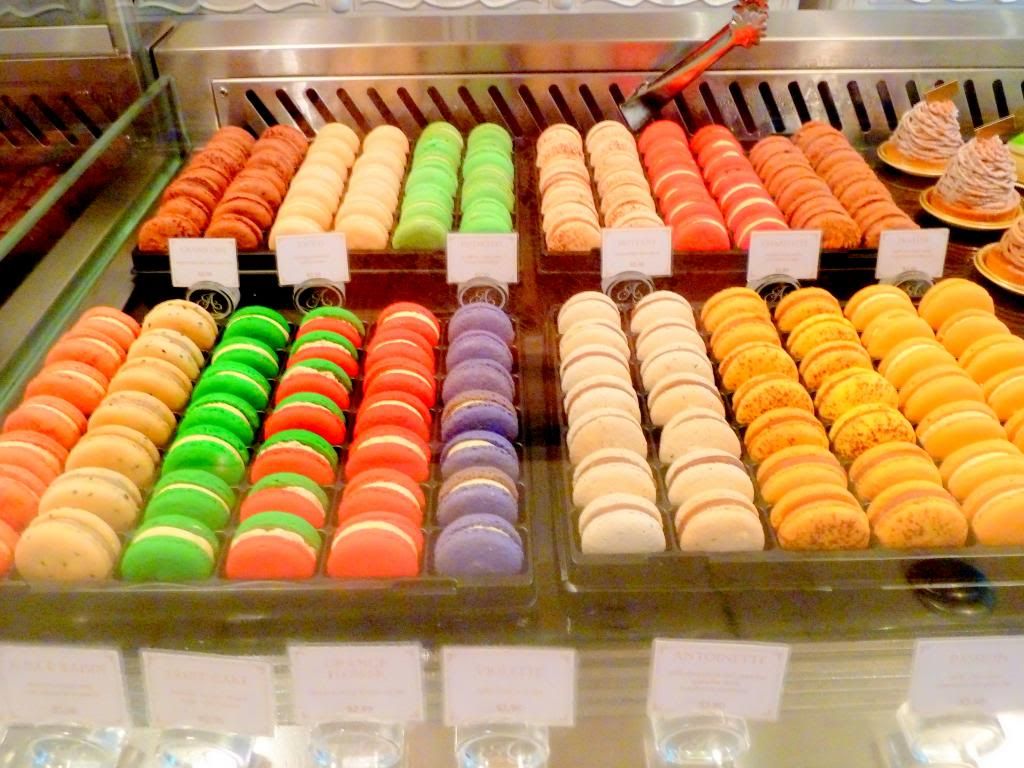 The Food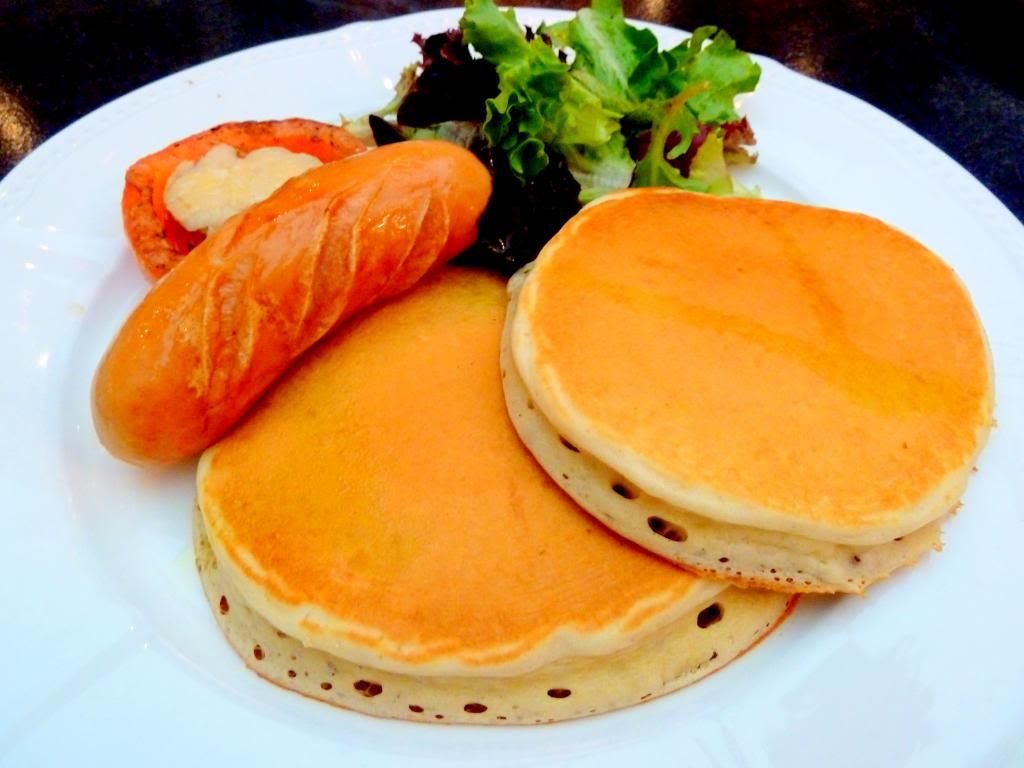 It was brunch time so I decided to go with
Savory Blinis with grilled sausage, french butter, grilled tomato and salad
. The sausage is really fragrant and juicy. The pancake is soft and fluffy unlike what you would get at fast food outlet M. The texture is good but it would be perfect if it was sweeter and more fragrant!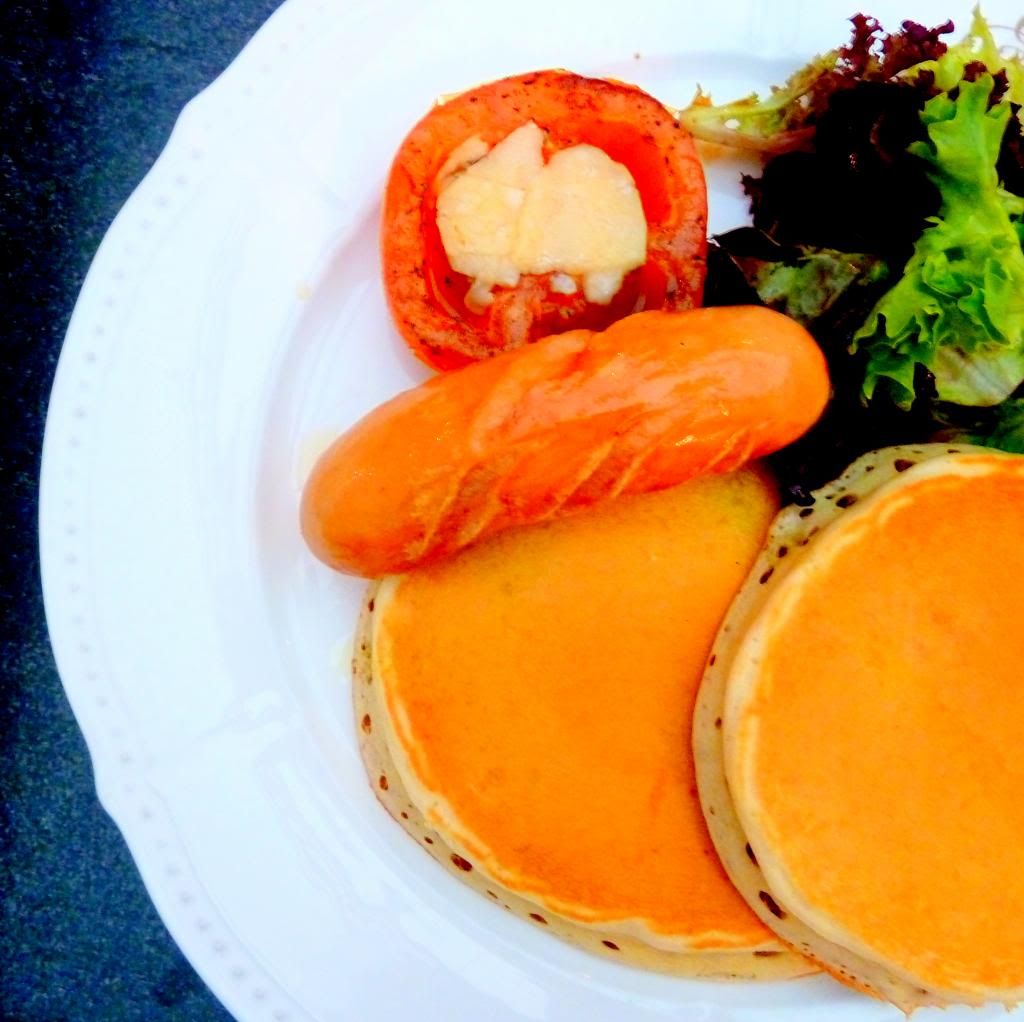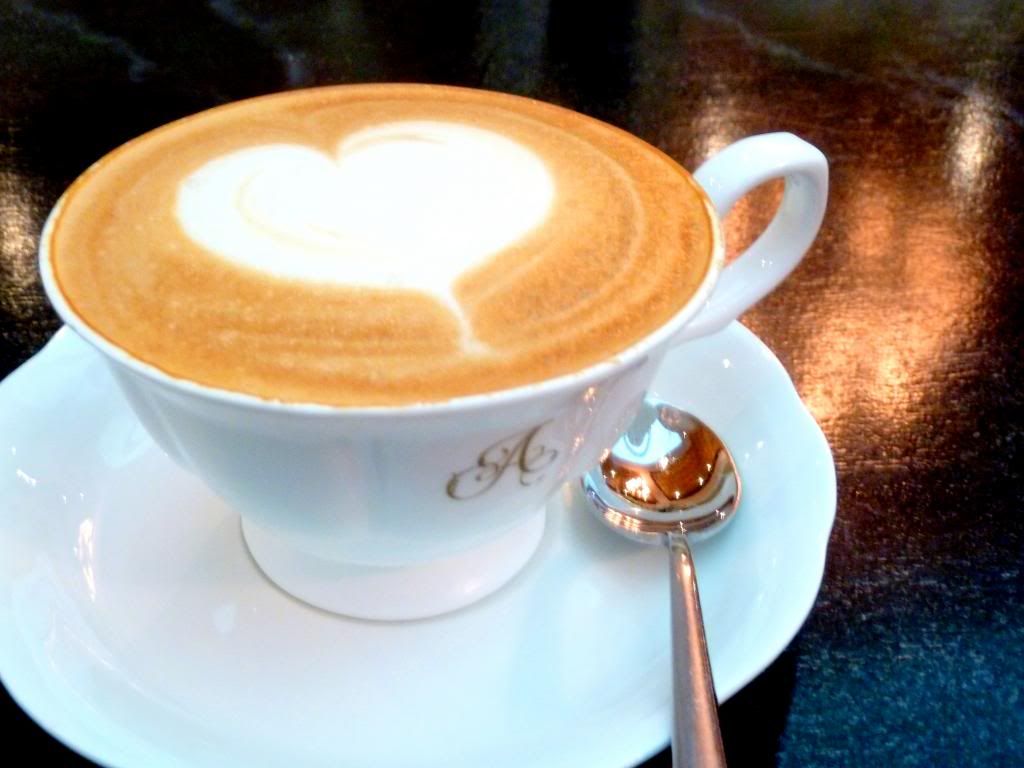 I ordered a
Cafe Latte
and I was really not expecting an outstanding coffee like those served at coffee-famous cafes, but I was extremely surprised! The coffee is really light and lovely. It somehow tastes different from other coffees I have tried, and I am guessing it could be beans from different sources.
I would definitely come back just for the coffee!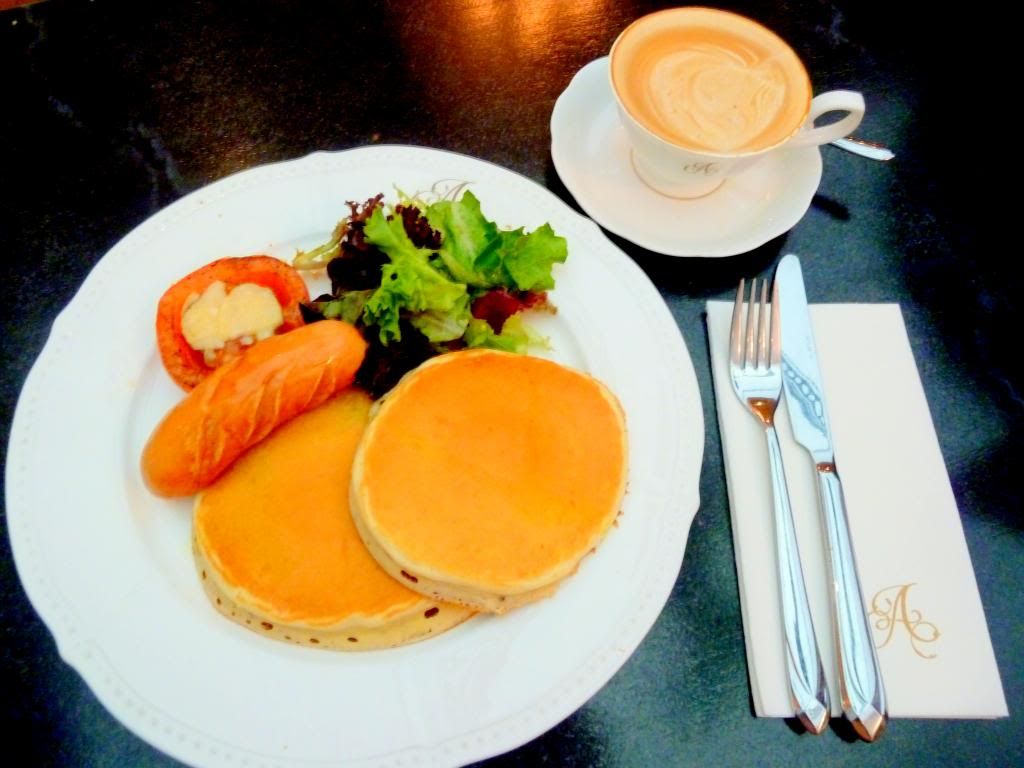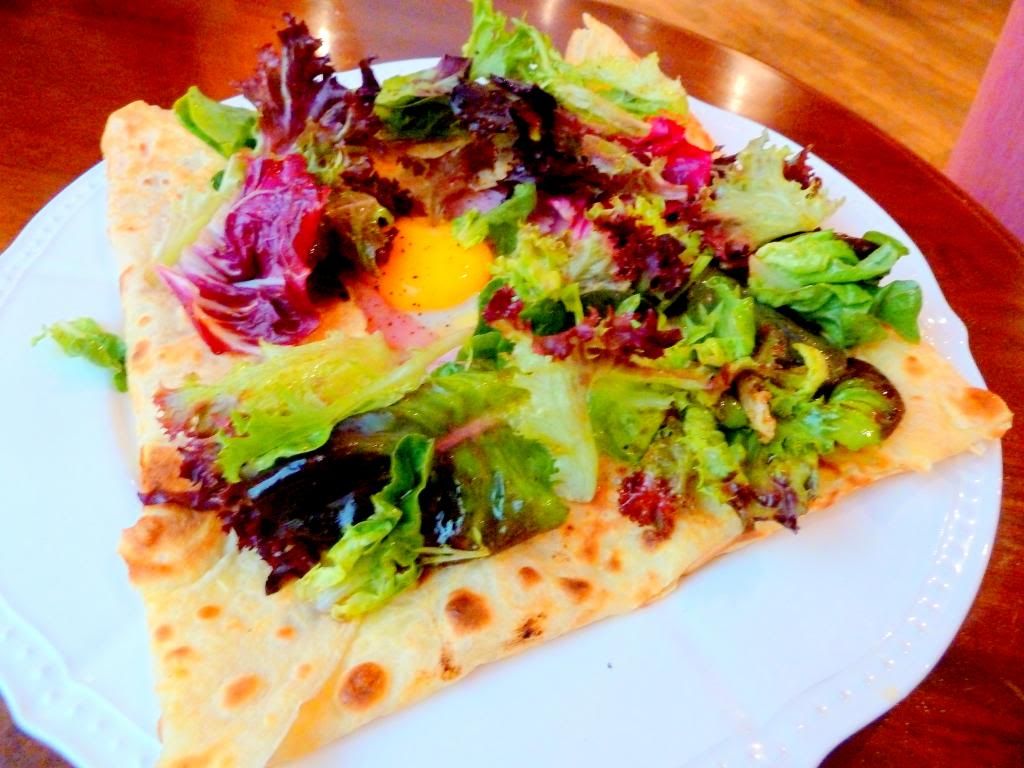 My friend ordered a
Paris
, which is a savoury crepe with
a lot
of ham, sunny side up and salad on top. I am really not kidding about the ham, it was a ham party! Really liked their generous serving and the taste as a whole was awesome! It is big enough to keep your stomach full till dinner time.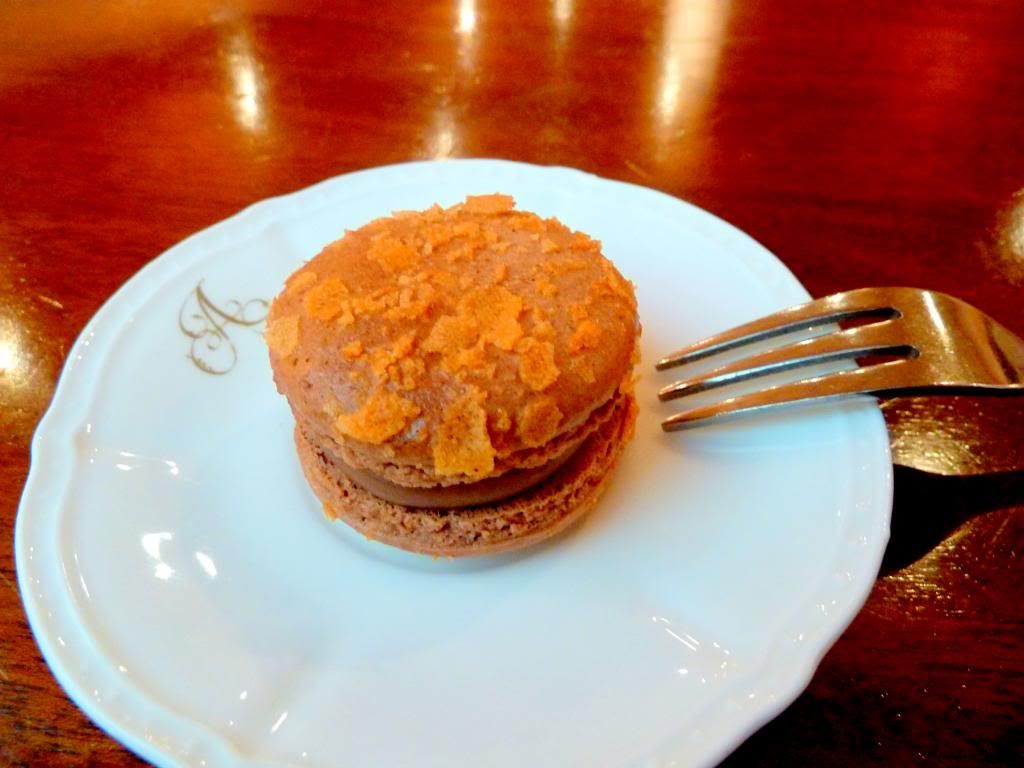 Later in the afternoon, I also ordered a macaroon and I think it was hazelnut flavoured. It was really nice and the crispy bits on the top added extra texture to the taste. I heard that the other 'unique' flavours are not really nice and I didn't bother trying to test if it is true.
The Menu
I didn't take the menu because it can be found
here
!
For the price, I think it is actually a mix of both affordable and pricey!
There are breads from $2 - $5, desserts from $5 - $8, coffee at about $5 and breakfast items and crepes which are well below $20. The mains are expensive and range between $20 - $30.
{ In a nutshell }
I really enjoyed my time at Antoinette. The ambience was great, the food was delicious and the coffee was memorable! The great service also made my time there pleasant. They were not stingy about the power plugs for me to use my laptop. Even though the place is more like a dining place, studying there wasn't awkward. With such a pretty interior and delicious food, what excuses can you give yourself for skipping this stop? Just watch your pocket though! ;)
Instagrammed